Bruce Cervon's "Jumbo Cervon Monte"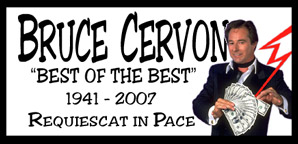 Many words have been and will be put out there in praise and appreciation for the wonderful contributions to magic that Bruce Cervon has made over the years. I was so stunned by the news of his death that I have been unable to find words of my own to convey my appreciation for knowing this man of such personal integrity, generosity, and loyalty. He was truly a treasured friend.
I was going over some archives, and found the following video I made while he was visiting my home about a decade and a half ago. Here he explains the "real work" on a favorite creation of his, Jumbo Cervon Monte. It's a "behind the scenes" example of the fun he had playing the charming charlatan...